SPFBO 2018
As some of you know, I've entered my first novel, Blue Prometheus, in the SPFBO 2018 (the Self-Publishing Fantasy Blog Off, run by fantasy novelist Mark Lawrence) for the remote chance of winning the SPFBO selfie-stick (first prize). The true prize is, of course, the publicity that comes with winning.
Some big names have come from previous SPFBO contests, including Josiah Bancroft (Senlin Ascends) and Jonathan French (The Grey Bastards) among them. There has also been a cover contest, with the winners already announced. You can find more about that at Mark's website (see above).
With 300 novels entered this year, the chance of being voted even amongst the 30 finalists is small, but a real win for me is the opportunity to meet other fantasy writers, get reviewed by one or more of the big fantasy blogs, and the chance to find new fantasy authors/novels to read.
Ten fantasy book blogs are judging 300 novels. The first round is from August 1st to the end of the year, when 10 novels will be voted into the finals, which take place from January to June—more or less.
The review of Blue Prometheus for SPFBO 2018 has now been posted over at Book Nest.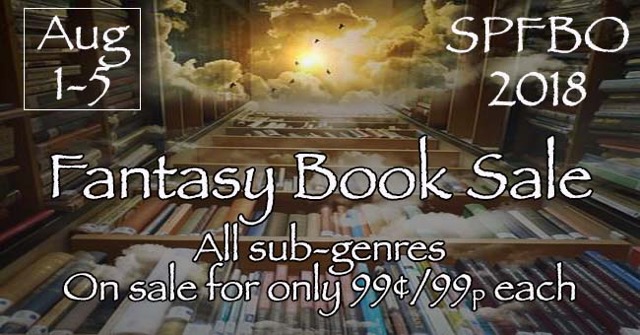 SPFBO Fantasy Novel 99c/99p Sale
In addition to the main SPFBO 2018 competition, over 120 fantasy novels are on sale at 99c/99p from today August 1st until midnight on Sunday, August 5th. Many sub-genres of fantasy are included in the sale: epic fantasy, science fantasy, urban fantasy, steampunk, romance, historical, comedy and dark. I've listed Blue Prometheus as science fantasy, although in some ways it could be considered as epic fantasy, too—minus the advanced technology :)
I've already marked about a dozen of the 120 novels to buy and will search for others over the following few days—looking forward to some new fantasy reading.

The contest is held every year, but only first novels in series or standalones are eligible to enter. This year and next I'll be finishing the Promethean trilogy, but I hope to enter a standalone novel, written from an alien point of view, into the 2020 SPFBO. It will be set in the Promethean world, but distinct from the trilogy.
Thank you to those of you who have already bought Blue Prometheus, and if you haven't you have the opportunity to buy it at a discount price for five days before it goes back up to $3.99/£3.99. 
The sale (of my novel) is on Kobo and Amazon:
Blue Prometheus (Promethean Series Book 1)
Return to homepage