Orange Storm

Orange snow falls over London. With it arrives life from another universe intent on manipulating the fabric of reality—to deadly effect...
The first novel in the Orange Storm duology begins in London and later moves to the north of England, where the storm intensifies. It's an urban fantasy (although the action takes place in both the city and the countryside) with elements of science fiction. One reviewer described it as apocalyptic/science fiction. There's some truth to this, but somehow she missed the magic—and it definitely exists.
There is some connection between this and the Blue Prometheus series. In Orange Storm, it's subtle, but anyone who's read the first series should notice it. When you get to the second novel of the duology, The Orange Witch, then the connection is obvious. 
In fact, The Orange Witch could almost be read as a standalone or as book four of the Blue Prometheus series. Not that I recommend missing Orange Storm!
Orange Storm by Ned Marcus
The Blurb for Orange Storm

Pale orange snow falls over London. With it arrives life from another universe intent on manipulating the fabric of reality—to deadly effect.
When linguist Luke Lee witnesses the aliens murder a senior British politician, he becomes a target. And when they kidnap his pregnant wife, he will do anything to get her back. He's one of the few people with the skills to understand and defeat them.
Psychic Amelia Blake never imagined she would be called upon to defend humanity—but the message is clear. She must stop this evil. 
And she sees what others cannot—a magic unlike anything she's encountered. In her search for help, she's drawn to another plane where she faces a witch of terrifying power.
Should she risk summoning an alien witch to counter an alien threat?
Can Luke and Amelia prevent further deadly intrusions into Earth?
They have 38 hours to act.
Types of Fantasy

In The Types Of Fantasy I Read And Write, I talk about four types of fantasy stories: portal, intrusive, immersive, and liminal. I love the first two, quite enjoy the fourth, and dislike the third. 
I've already explored portal fantasy in Blue Prometheus. With Orange Storm, I explore the second type—intrusive fantasy. In a sense, intrusive fantasy is the reverse of portal fantasy; it's when something unpleasant (from the world of Blue Prometheus) finds its way into the protagonist's world. 
Setting
The novel is set in the UK—in London and Shakerley Mere in Cheshire. Just in case you're interested, Shakerley Mere exists, as do the islands, but there's no manor by the lake—I made that part up.
From time to time, you get glimpses of other worlds, too.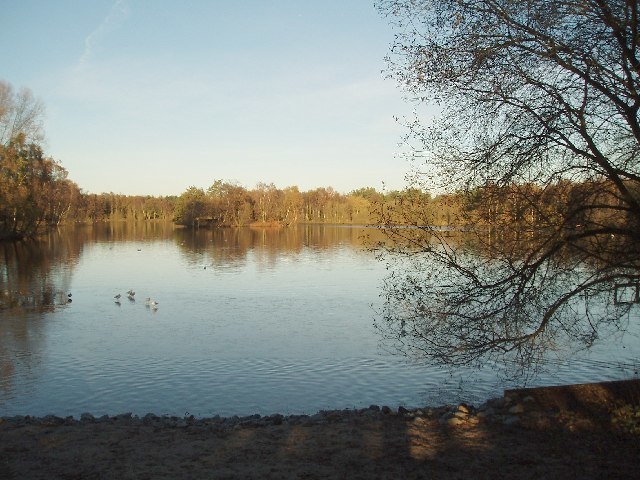 South End of Shakerley Mere by Ian Warburton
I used to live near here and took my dogs (black labradors) on many walks around the mere.

Research
All my novels involve research. In this case, it ranged from reading up on magic, the Special Boat Service (the SBS is the British naval equivalent of the SAS), and MI5. I wrote one scene while listening to an extended audio of an attack helicopter flying. I hoped to catch the feeling of that particular action scene. I also watched a lot of walking videos around south London. I lived there for a year once (Brixton, Kennington, and Clapham Common), but it was useful to virtually walk the streets again.
I also used to live near Shakerley Mere, an old sand quarry in Cheshire, right next to the M6. Despite its proximity to the motorway, it can be quite a calm place to visit.
The Characters

Orange Storm introduces a team of four very different types of people who will defend their country (and ultimately the world) against a deadly enemy. An enemy with values very different from theirs. 
The power of the aliens is almost overwhelming and involves both technology and magic. To counter this, they need magical help from another world; they must decide whether this is worth the risk.
The Beginning of Orange Storm

Pale orange snow fell over London, and it flurried around Luke Lee as he cycled into Smith Square. The colour of the snow was only the first of three things that were odd. 
The second was that he, a psychologist and linguist, was about to meet the home secretary. 
The third was the reason for that meeting.
An old church dominated the centre of the square, and tall trees, barren of leaves but covered in fairy lights, inclined towards it. Dickens had called St John's a petrified monster with its legs in the air. Now, the monster was orange…
Charles Dickens really did describe St John's as a petrified monster with its legs in the air.
Orange Storm—Bookstore Links
Orange Storm can be bought at all major online booksellers, but first, a short disclaimer: I use Amazon (US) affiliate links on my website, and if you buy anything through these links I make a small commission (your price remains the same). 
Kobo (Can) (US) (UK) (Aus) (NZ) (SA)
To end, here's one more picture of Shakerley Mere in winter.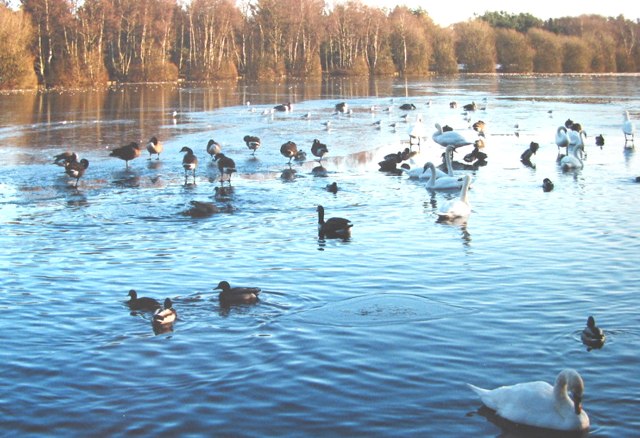 Birds on Shakerley Mere by Pauline Eccles